Mercedes-Benz Prepaid Maintenance
Why prepaid maintenance?
It's the smart, convenient way to prepay for all your vehicle's forthcoming scheduled maintenance services. Mercedes-Benz Prepaid Maintenance allows you to "lock in" the costs for "required" services before your first service visit or 10,000 miles, whichever comes first.
Benefits of prepaid maintenance
With prepaid maintenance, all your vehicle's needs are already paid for thousands of miles ahead, and for months in advance.* Prepaid maintenance benefits include:
Potential increase in residual value if purchased with lease
Potential increase in resale value (since you're able to prove you're properly maintaining your vehicle according to manufacturer's recommendations)
The peace of mind of having paid for maintenance in advance
Mercedes-Benz trained technicians using Genuine Mercedes-Benz Parts
Furthermore, prepaid maintenance follows wherever you travel. So if you require service while you're on the road - or should you ever choose to relocate - your plan gets honored in full at any authorized, participating Mercedes-Benz Dealer.
Choose the right payment option for you.
By opting for a prepaid maintenance plan when you purchase your Mercedes-Benz, you can build its cost into your monthly vehicle payment, or you can opt to pay the full cost upfront. You can purchase your plan any time before your first service visit or before 10,000 miles - whichever comes first.
There are three different prepaid maintenance plans you can select from, each customized to your preference. You can choose a prepaid maintenance plan that covers your service needs for 2, 3, or 4 years, and up to 40,000 total vehicle miles.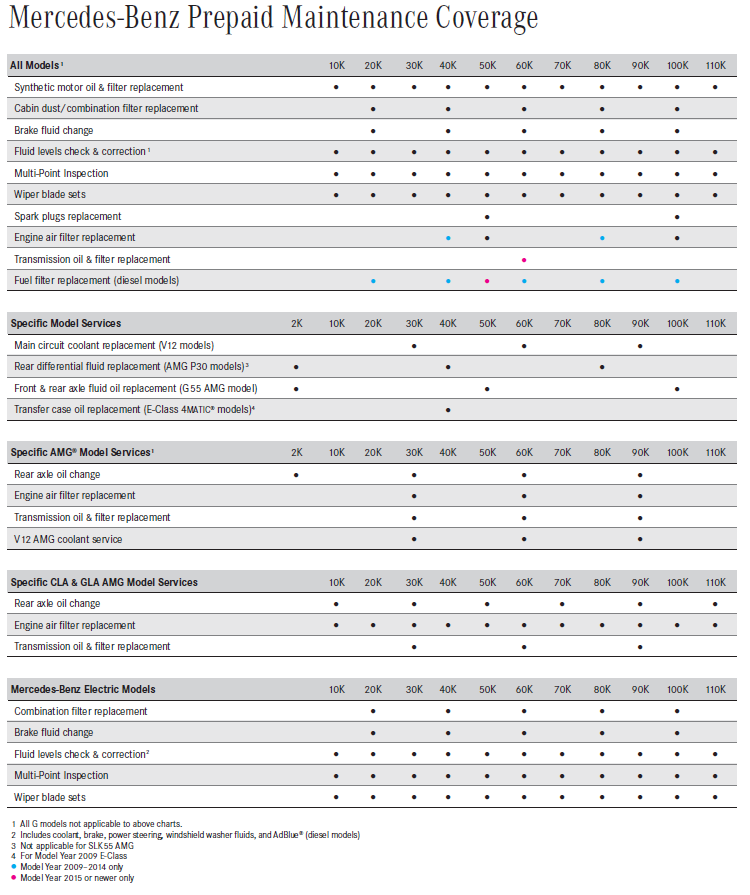 If your vehicle is not eligible for the Mercedes-Benz Premier Prepaid Maintenance, ask for Mercedes-Benz Star Prepaid Maintenance and receive similar benefits. Your vehicle must be a model year 2007 or newer and have less than 80,000 miles.
*For details, exclusions, and limitations on Mercedes-Benz Premier Prepaid Maintenance, contact your dealer, visit www.mbusa.com/maintenance, or call 1-800-FOR-MERCEDES.